Harvard Apparatus Model 683 Manual
The Model 683 Small Animal ventilator comes standard with two piston and cylinder assemblies. The smaller piston allows tidal volumes to be set from 0.5 to 5.0cc increments and the larger cylinder allows tidal volumes of 3.0 to 30cc increments. Setting the cylinder stroke between gradations it is possible to achieve finer resolution in tidal volume settings.
For small animals from 250g to 5kg (11lbs) - rats, hamsters, rabbits
CE approved
Add item 73-3076 Connection Kit for use with compressed gasses.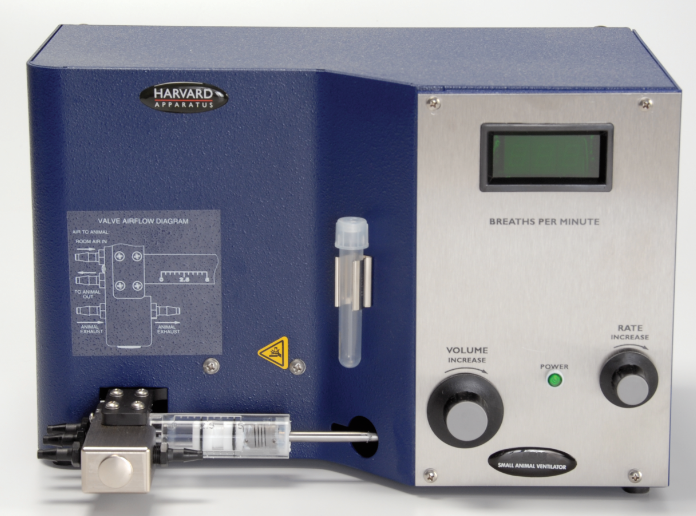 Ventilator Specifications:
| | | |
| --- | --- | --- |
| Rate | | Adjustable from 30 to 150 strokes/min while the ventilator is running |
| Phase Ratio | | 1:1 fixed |
| Dimensions, H x L x W | | 25 x 32.5 x 20cm (10 x 13 x 8in) |
| Weight | | 9.5kg (21lbs) |
| Power | | 100-120VAC/200-230VAC, 0.7A/0.35A max., 50/60Hz |
| Stroke Rate | | Continuously variable from 30 to 150strokes/min while the ventilator is running with LED Display |
| Volume | | Adjustable from 0.2 to 5.0 cc/stroke or 1.5 to 30 cc/stroke while the ventilator is running |
| Environmental | | |
| | Operating Temperature | 0 C to 40 C (32 F to 104 F) |
| | Operating Humidity | 20% to 80% RH, non-condensing |
| | Installation Category | II |
| | Pollution Degree | I1 |
| Port: | | |
| | Part Number | 5121-074 |
| Size | | |
| | ID | 3.25mm (0.128") |
| | OD | 4.78mm (0.188") |
You may also find useful: