Guide to Gel Filtration or Size Exclusion Chromatography
Introduction.
Gel Filtration, also called size-exclusion chromatography, can be used for protein DNA purification, buffer exchange, desalting, or for group separation in which the sample is separated in two major groups. Gel Filtration is an easy to use method for separation of molecules with different molecular sizes, using mild conditions. Gel Filtration uses the size of molecules in solution to determine separation. SpinColumns have short media packing so the samples are separated by size, the large molecules travel out of the column with the void volume the smaller molecules, salts, etc., remain in the column.
Gel Filtration columns are used not only to remove low molecular weight contaminants such as salt, but also for buffer exchange before and after different chromatography techniques and for the rapid removal of reagents to terminate a reaction.
Examples of group separations include:
Removal of unincorporated neucleotides during DNA sequencing
Removal of free low molecular weight labels
Termination of reactions between macromolecules and low molecular weight reactants
Removal of products, cofactors or inhibitors from enzymes
Removal of unreacted radiolabels such as [α-32P] ATP from nucleic acid labeling reactions
Gel Filtration Elution Volumes as a Function of Molecular Weight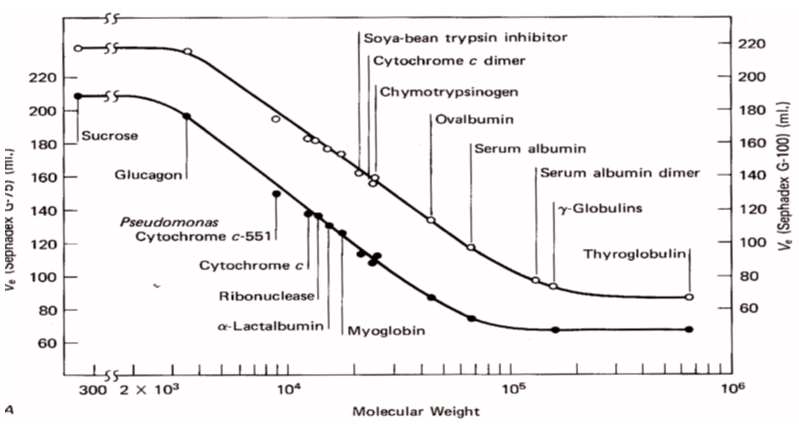 Advantages of Gel Filtration SpinColumns
Gel filtration is a good method for separation of molecules differing in molecular weight because:
Not dependent on temperature, pH, ionic strength and buffer composition.
Separation can be carried out under any conditions.
There is very little absorption.
There is less zonal spreading than in other techniques.
The elution volume is related to the molecular weight.
See guide for more information!