PANLAB: LE12404 Modular Stimulator Mainframe User's Manual
The Digital Stimulator LE12404 is an instrument which provides a wide range of stimulation with single/repetitive pulses of selectable constant voltage/current. The LE12404 has not time base it has BNC connectors to interface with an external time base device.
Intuitive front panel controls allow for full control of stimulation parameters, and makes this model ideal for middle range applications.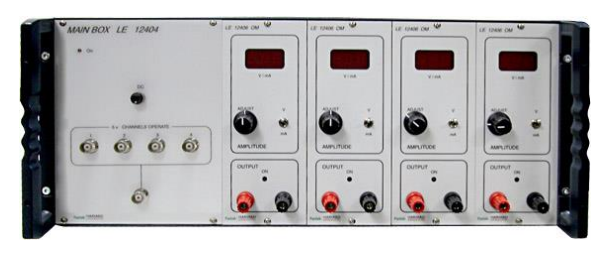 Table of Contents
1. Symbols Table
2. Good Laboratory Practice
3. Unpacking and Equipment Installation
4. Maintenance
5. Table of Contents
6. Introduction
7. Equipment Description
8. Equipment Connection
9. Working with the Equipment
10. Troubleshooting
11. Preventative Maintenance
12. Technical Specifications
Technical Specifications